REMEMBERING MRS. MARGARET WANG…
Founder of the HKU Museum Society
The HKU Museum Society is deeply saddened that our Founder, Mrs. Margaret Wang has passed away in Singapore on 7 August 2020. We convey our heartfelt condolences to her husband Professor Wang Gungwu and family.
Margaret joined the HKU family when Professor Wang became the University's Vice Chancellor in 1986. A woman with vision, passion and courage, Margaret believed the University Museum and Art Gallery (UMAG) would benefit tremendously from the support of a friends group. Gathering alumni and ardent supporters of HKU, she founded the HKU Museum Society with an inauguration on 23 September 1988 officiated by Lady Wilson, wife of the Governor of Hong Kong, as our first Patron.
Thanks to Margaret's foresight, the Museum Society has become a vital force in the promotion of art and culture, supporting the UMAG as a global teaching museum, and sponsoring academic scholarship awards and grants for the University's students.
Margaret will always be remembered for her warmth, grace and generous spirit by all of her friends and acquaintances. We will miss her dearly!
With profound gratitude,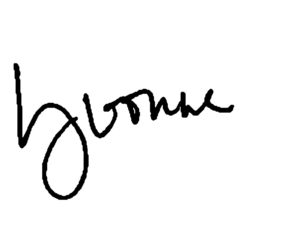 Yvonne Choi
Chairman
HKU Museum Society
---
Margaret always spoke from her heart…
(By Ellen Tsui, Patron of HKUMS 2002-2014)
My acquaintance with Margaret started in the early 90's at meetings of Academia Sinica in Taiwan, since my husband and Gungwu were elected to the academy in the same year.
My first impression of Margaret was a very elegant and sophisticated lady. I got to know her better, however, through many occasions later after we moved to Hong Kong in 2002.
One such occasion was a dinner at the University lodge. At the dinner table, she recalled why she wanted to set up the HKU Museum Society. It was her persuasion and support from her friends, the Society was established. It was also clear from her smile that she was pleased, proud and satisfied with what the Society had achieved.
After dinner, she and I had a brief moment of private conversation. I took the opportunity to ask her for advice to be the wife of a Vice Chancellor. She held and patted my hand, and said, "Ellen, you will be fine – just be yourself." It was indeed the most comforting and useful answer that I could have wished for.
Margaret always spoke from her heart, sincere and honest in her direct yet diplomatic way.
Margaret, you will always be remembered by all of us.
We miss you.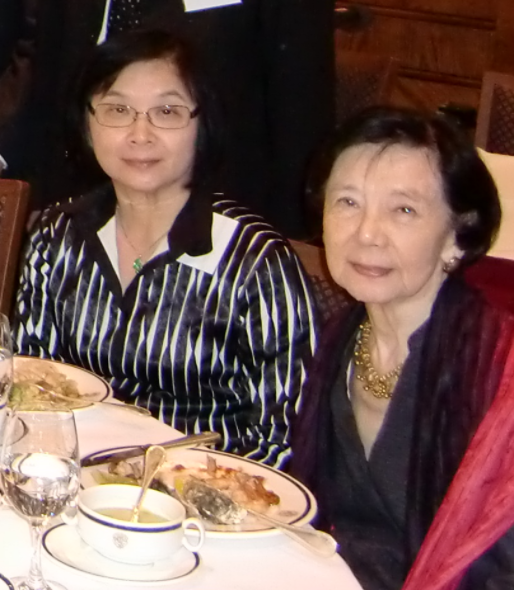 Ellen and Margaret (L to R)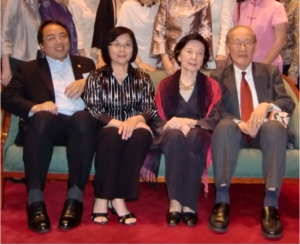 Professor Tsui Lap Chee, Ellen, Margaret, Professor Wang Gungwu (L to R)
---
Margaret, you have left behind a cultural heritage in the University…
(By Dr. Michael Lau Wai-Mai, Former Director of University Museum and Art Gallery)
Professor Wang Gungwu, Vice-Chancellor of the University, came to Hong Kong in 1986. He and his wife Margaret were very interested in the arts in general and in the Museum in particular. Margaret soon realized that in Hong Kong for a University museum to move forward and to fulfill its academic role as well as its community service, it was of paramount importance to raise funds.
Soon afterwards, Margaret came forth with an idea of forming a museum society. As we all know it was Margaret who initiated the founding of our Museum Society, and it was also Margaret who painstakingly handled all the difficult tasks involved in the formation of the Society.
At this juncture, it might be of interest to share with you Margaret's secrets in fund raising and membership recruitment. As wife of a Vice-Chancellor, Margaret had ample opportunity to meet and talk to the wives of professors and guests whom she invited to cocktail receptions or
dinners at the Lodge. There, with her charming personality, enthusiasm and eloquence, she had no problem in raising funds and recruit members for the Society.
Margaret, you have left behind a cultural heritage in the University, a flourishing Museum Society which is our pride even today. You have a magnanimous personality – a sterling lady with vision, leadership, dedication and love.
Margaret, we love you and you will long be remembered in our hearts and in the Museum Society.
---
The Margaret I know…
(By Marina Choa, HKUMS Founding Executive Committee)
Margaret and I crossed paths in 1986 when Professor Wang Gungwu started his tenure as the Vice-Chancellor of The University of Hong Kong.
Margaret had always wanted to do something in the field of art for the University. She once said, "The Chinese University already has a very successful art society, why can't we!"
With these words, the HKU Museum Society was born, formally registered in 1988.
I was recruited to be the Treasurer, although I knew nothing about book-keeping. It was not easy during the first few years due to the lack of membership, but we all ploughed on, improving gradually.
Working for her and learning under her in the 80's and 90's was one of the most joyful experiences in my life, simply because she was full of enthusiasm, ideas, foresight, and speed action. She had the ability to put everyone at ease with her no-air attitude. Soon our little Society became a family, and when she retired, she left this precious legacy to today.
Before I end, I must tell one more incident. When Margaret first arrived in Hong Kong, she asked me about the ladies in Hong Kong, especially those at the University. Were they quite formal, sombre and dressy, and where did I buy my clothes? I comforted her and said we were all quite casual, not particularly social butterflies, so to speak. I gave her a few shop names (no brand names) and she was quite happy to be initiated into our society.
Dear Margaret, we shall always miss you.


Margaret and Marina (L to R)
---
Margaret was a dynamic leader…
(By Jean Ho, HKUMS Chairman, 1996-2005)
I was very saddened to hear of Margaret's passing. My deepest condolences go to Gungwu and his family.
Margaret invited me to join the Executive committee of the Hong Kong University Museum Society in the early 90s, a society she founded in 1988. At that time, I had little knowledge of visual arts, but it took no time for Margaret to convince me that joining the committee would be a great opportunity to learn.
Margaret was absolutely right, because soon thereafter, we were organising art lectures, tours of museums and art galleries, meeting artists and academics and hosting events at the University Museum. It was a great way to learn about visual arts and to meet like-minded people. I can truly say my passion for the arts originated from my enriching experience being part of the Museum Society over the years.
Margaret was a dynamic leader. She was very intelligent and sharp. I loved her no-nonsense style of leadership, which meant we got a lot done. She had a great personality – always bubbling with energy and was fun to be with.
Margaret was also a very generous and gracious host. We held most of our committee meetings at the Vice Chancellor's lodge and Margaret hosted countless lunches and programs at her home. I fondly remember our Chinese painting classes where I always sat admiringly in front of her David Hockney print.
Thanks to Margaret's vision and leadership, the HKU Museum Society is now well established in Hong Kong with a vibrant membership base. The Society plays an important role in promoting art and culture in the city and provides significant support to the University Museum and Art Gallery. Margaret will be fondly missed.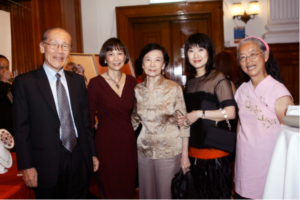 Professor Wang Gungwu, Jean Ho, Margaret Wang, Margaret Chan, Sef Lam (L to R)
---
Though diminutive in size, her personality was huge…
(By Virginia Yee, HKUMS Executive Committee 1995-2003)
I remembered clearly the bright Saturday afternoon on what was billed as "Discovering Hollywood Road", a program of the HKU Museum Society. I was a participant like many others and taking a pulse in one of the scores of shops we visited that afternoon. Not really new to Hong Kong by that time but I was always enthusiastic for art related programs. Also present was Margaret Wang, the Society chairlady. I recognized her immediately. Margaret cornered me and said "Virginia, I've seen you at many of our programs. What do you do?". I replied that I was a former commercial banker. Her eyes lit up and she said you have to join our committee as we are in search of a Treasurer.
Of course, I obliged her request. Though diminutive in size, her personality was huge. In her presence you are immediately drawn to her charming Singaporean accent and energy. Margaret approached everything she did with enthusiasm and purpose.
In my first few years on the committee attendance at our programs was rather poor. Most events were held in the evening and at the Museum premise. Pokfulam is not exactly Central. Often, committee member would receive a call from Margaret or a colleague to rally the troops. We termed it "Rent a crowd". If our members have not signed up, then committee members should at least fill the empty seats so not to disappoint our speaker.
Committee meetings were held at the Vice Chancellor's Lodge when Margaret was the Chairlady. Once a month these meetings were always cordial and a chance to meet new recruits to the committee. Our newsletter at that time was generally on two sheets of paper, using the front and back pages. Sef Lam was our newly recruited Newsletter editor. Sef would continue in the post for 10 years before heading up Tours. Sef and her husband, Professor Lam Kin, would also form a very close relationship with Margaret and Gung Wu after their return to Singapore.
I would eventually serve 8 years on the committee, 2 years as the Treasurer and 6 years as Vice Chair. It is amazing to look back at the progress the Society has made since its founding. Under the leadership of succeeding dynamic chairladies, Jean Ho, Margaret Chan, Bonnie Kwan Huo and now Yvonne Choi, the Society has become an integral part of The University of Hong Kong. Its membership has expanded many folds. It draws people from diverse backgrounds across Hong Kong society. This is a testament to Margaret's vision as well as her optimism and belief that you get a strong group of women together, they can make a difference.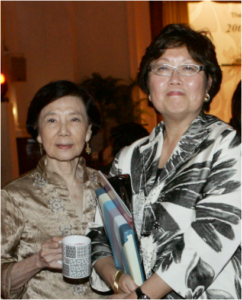 Margaret and Virginia (L to R)
---
Jan 2008 – HKUMS trip to Egypt
---
May 2008 – 20th Anniversary Gala Dinner at Loke Yew Hall
---
May 2010 – AGM dinner
---
Feb 2014 – Executive Committee trip to Singapore
---