Guided Viewing: "Christie's Spring Auctions" with Pola Antebi
Christie's is delighted to invite the members of the University of Hong Kong Museum Society to a private guided tour of Important Chinese Ceramics and Works of Art from their forthcoming Hong Kong Spring Auctions. The guided tour will be given by Pola Antebi, Deputy Chairman, Asia Pacific, International Director & Head of Private Sales, Chinese Ceramics & Works of Art Department, Christie's.
Highlights
This season Christie's continues the tradition of offering scholar's objects which reflect the sophisticated taste of the Chinese literati. One of the highlights is an exquisite celadon vase made at the Longquan kilns in the Southern Song dynasty (1127-1279), covered with a thick celadon glaze of jade-like quality. Fresh to the market, the vase was acquired c.1860-1880 from a Japanese temple by a landowning family, and has been with the family since. Another treasure is an Imperial soapstone seal belonging to the Qianlong Emperor (r. 1736-1795), commissioned during the early part of his reign, carved with the phrase "hanwei jingji" as a reminder to the Emperor to admonish himself from any sluggishness.
Resource Person
Drawing from over 30 years of professional experience, Pola Antebi is a global ambassador representing Christie's in its operations around the world from her base in Hong Kong. As one of the most senior Chinese ceramics and works of art specialists in the firm, Pola regularly meets with prominent collectors, dealers and museum representatives in Asia, Europe and the United States to advise about her market, assist with curation of collections and to secure art works for sale both for auction and private sales.
Pola began her career in the field in New York in the mid-1980's. Her dedication to further the prominence of Chinese works of art brought her to Asia and she joined Christie's Hong Kong in 1990. As part of a pioneering team, Pola quickly grew the department, and supported the expansion of Christie's presence throughout Asia. By 1998 Pola was promoted to Head of department, a role she held for 14 years. During this period of unprecedented growth, she was instrumental in elevating the category globally; her department regularly shattered auction sale records.
Through her passion, commitment and engagement with notable academics, Pola has made substantial contribution both to Christie's and to the study of imperial ceramics and works of art, with a personal emphasis on Chinese imperial ceramics, lacquer and jade carvings from the Song to Qing dynasties.
Pola is also passionate in sharing her knowledge and experience with the younger crop of Christie's specialist; she actively supports the mentorship program and has initiated a learning and development specialists' forum which she chairs.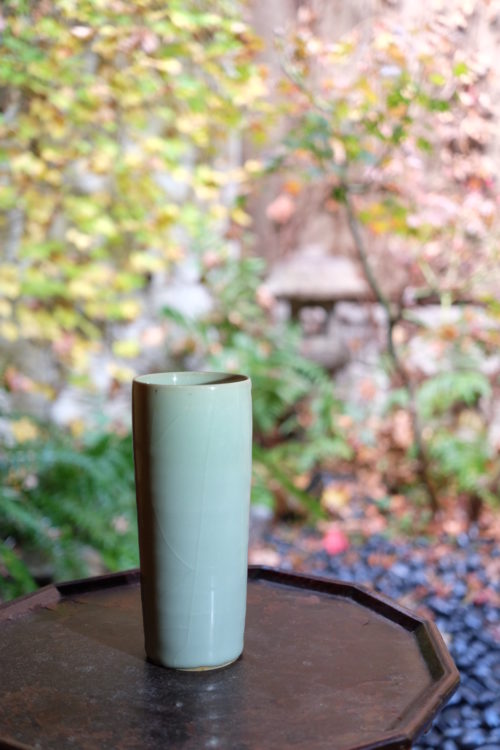 FINE AND VERY RARE LONGQUAN CELADON CYLINDRICAL VASE
SOUTHERN SONG DYNASTY (1127-1279)
7 in. (17.8 cm.) high