Guided Viewing: "Colours of Congo: Patterns, Symbols and Narratives in 20th-Century Congolese Paintings" with Dr Florian Knothe and Viewing and Demonstration: "Painting Across The Threshold: Ng Lung Wai" with Ng Lung Wai (Members only event)
**Please note that only Fung Ping Shan Building entry is open for visitors. Participants are required by the UMAG to wear a mask, to use the "LeaveHomeSafe" mobile app or provide their personal contact details onsite.
For more precautionary measures please click:
https://www.umag.hku.hk/en/visit_us.php?id=121399
The HKU Museum Society and the University Museum and Art Gallery are pleased to present two guided viewings. The first exhibition Colours of Congo: Patterns, Symbols and Narratives in 20th-Century Congolese Paintings will be guided by Museum Director Dr. Florian Knothe. The second exhibition Painting Across The Threshold: Ng Lung Wai will include a guided viewing and a demonstration by the artist.
Colours of Congo: Patterns, Symbols and Narratives in 20th-Century Congolese Paintings
Thanks to unprecedented access to extensive archives and art collections, the exhibition's narrative presents a generous overview of paintings that were instigated when a single artist from Belgium began a painting workshop so as to collaborate with the indigenous population of Elisabethville (modern-day Lubumbashi). This first studio was followed by other workshops that assisted in developing a hybrid artform that remains a celebrated phenomenon.
The European influence of painting first began with Georges Thiry, who worked for Belgium's colonial administration starting in 1926. In Elisabethville, Thiry had noticed a series of painted murals of crocodiles and birds. He inquired about the artist and was introduced to Albert Lubaki. Thiry was fascinated by the artist Lubaki, his wife, and the other community members who continued to document their connection to the natural world through wall paintings.
The exhibition and accompanying volume of essays primarily examines this group of paintings as artworks worth considering on their own merits—describing their techniques and inherent beauty, while acknowledging that their iconographic contents reflect daily life within village communities. The juxtaposition of European artists and artistic materials brought to Africa, and the display of African paintings in European art metropolises, initiated decades of intense collaboration and cultural exchange.
Dr. Florian Knothe teaches the history of decorative arts in the 17th and 18th century with particular focus on the social and historic importance of royal French manufacture. He has long been interested in the early modern fascination with Chinoiserie and the way royal workshops and smaller private enterprises helped to create and cater to this long-lasting fashion. Dr. Knothe worked at The Metropolitan Museum of Art focusing on European Sculpture and Decorative Arts, and on European and East Asian glass at The Corning Museum of Glass, before his current position as Director of the University Museum and Art Gallery at HKU.
Sylvestre Kaballa
Untitled (The Nativity)
Oil on canvas, 50 x 66 cm
Signed 'Kaballa. Syl. / E/ ville 1956'
1956
Pierre Loos Collection
Photo: Michael De Plaen
Painting Across The Threshold: Ng Lung Wai
Drawing inspiration from the traditional art of paper folding, this exhibition presents Ng Lung Wai's 'folding paint' technique. Creating works of great sophistication from seemingly naive and childlike experiences, these vessels made from folded paint transform the artist's childhood practice of folding paper boats into a highly personal visual language. More than an investigation into his own heritage and cultural roots, his works eloquently speak to our existential experiences, while simultaneously inviting us to delve into our respective memories and feelings.
The colours and visual elements incorporated by Ng contain the entirety of his lived experience. Similar to the message of Odysseus' seafaring expedition, Ng's boats in All the Best depict our collective voyage through life's ups and downs. As the title implies, Chang Ming is inspired by Laozi's Daodejing, which opens with the famous line 'a way that can be followed is not a constant way, a name that can be named is not a constant name'. The knots in Chang Ming represent unanswered questions about human existence and our never-ending pursuit of the truth. An unanswered question is often more intriguing than an answered one, as the former never stops producing possibilities.
Painting Across The Threshold is the first exhibition of the UMAG_STArts series. It runs from March 12, 2021 to June 27, 2021.
Ng Lung Wai was born in Hong Kong in 1971 and received his master's degree in architecture from the Chinese University of Hong Kong. He first worked at an architectural firm and later at an interior design company. In 2001, Ng set up his own design and production house, working with local museums and exhibition venues on an array of projects. In addition to the aesthetic values developed during his architectural training, Ng also established a distinctive artistic approach and style that draws on his years of experience in organising exhibitions. Ng's engagement with different modes of expression inspired his decision to become a full-time visual artist in 2013, after completing an award-winning heritage revitalisation project at Mei Ho House.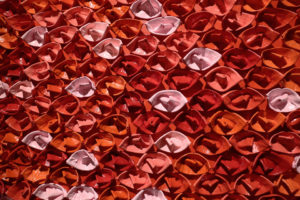 All the Best – Fire – 999
Ng Lung Wai
Folded Acrylic Paint on Canvas
2018
HKU.P.2020.2474