Joint UMAG Programme – Guided Viewings: "Metamorphosis or Confrontation" with Dr. Tobias Klein, "Clouds of Ink, Pools of Colour: Paintings by Hou Beiren" and "Mountain Taoist" with Dr. Florian Knothe (Members only event)
The HKU Museum Society and the University Museum and Art Gallery are pleased to present guided viewing of three current exhibitions, "Metamorphosis or Confrontation", "Clouds of Ink, Pools of Colour: Paintings by Hou Beiren" and "Mountain Taoist". We will be guided by the artist Dr. Tobias Klein and Museum Director Dr. Florian Knothe.
Metamorphosis or Confrontation
This exhibition traces Tobias Klein's work over the past decade and is structured in four distinct areas: "Bones", "Masks", "Mutations" and "Forces". Each theme unravels the relationships and evolution of the artist's body of work, while at the same time demanding that visitors take a position of negotiation, evolution or confrontation.
The first room, "Bones", serves as a general introduction. Full of references and models that were both inspiration and source material for the artist, the space has been transformed into a cabinet of curiosities (Wunderkammer). The second room, "Masks", is dedicated to a single work. Inspired by the intricate detail and cultural allusions of Cantonese Opera masks, this interactive installation transforms the visitor into a participatory player within a landscape of discoveries and unexpected moments. "Mutations", the third exhibition space, places three different works in a stimulating constellation—"The Invisible Human, Melted Proportions and Witnesses"—while thematising a shift in time and space. In the final room, "Forces", Klein establishes a dialogue between traditional forms of Chinese wood carving, experimental glass blowing and the ornamentation of digital transformations.
Seen as a whole, the individual rooms establish myriad readings. On the one hand, they allow for an understanding of the mastery of both digital and analogue materials while expressing the ability to apply interpretative and communicative techniques between old and new. This entire exhibition may be regarded as an extended Wunderkammer—a total work of art—which impressively presents the rich tapestry of Digital Craftsmanship.
Clouds of Ink, Pools of Colour: Paintings by Hou Beiren
"Clouds of Ink, Pools of Colour" presents recent work by the master painter Hou Beiren. His panoramas are filled with playful but elegiac meditations on the theme of the Chinese landscape expressed in luminescent swirls of colour and cascading ink, a theme to which he has returned numerous times over recent decades.
The origins behind Hou Beiren's paintings lie in the ink landscape tradition of the Tang (618-907) and Southern Song (1127-1279) dynasties. Subsequently eclipsed by literati painting in China after the fourteenth century, splashed ink continued in the Zen influenced Japanese ink wash painting of the Muromachi Period (1333-1578). This tradition was revived and renewed in the 1950s by the great twentieth-century master of Chinese painting Zhang Daqian (1899-1983), who saw parallels with the Abstract Expressionist and action painting then dominant in the Western avant-garde. Zhang and Hou were close friends, and in recent decades Hou has tirelessly developed his form of splashed ink landscapes into a uniquely personal practise.
Mountain Taoist
"Mountain Taoist" presents six newly donated works by Wesley Tongson (1957–2012) created between 1993 and 2012. Known for his traditional ink work and uniquely developed style of finger painting, the exhibition "Mountain Taoist" combines both genres, his mountain landscapes and two bamboo paintings that document Tongson's imaginative move from brush to finger.
After Tongson was diagnosed with schizophrenia at the age of 15, he found consolation in the act of painting, and in 1977, began studying Chinese painting with the artist Gu Qingyao in Canada. It was at this time that Tongson started to explore the world of splashed ink painting, a technique with its origins in eighth-century China.
In 2001, Tongson began experimenting with finger painting, and by 2009, he had virtually ceased using brushes altogether. During this time he worked primarily with his fingers, fingernails and hands to create pieces that were as sophisticated as any brush work.
Tongson considered landscape painting the most difficult form of Chinese art to master, and he continued to study and mentor others in the landscape tradition throughout his career. Referring to himself as a 'mountain Taoist' or 'mountain teacher', Tongson's paintings display a deep understanding of the natural and spiritual meaning of the Chinese landscape, and a continuous appreciation for the past masters.
Resource Persons
Dr. Tobias Klein was born in Bonn, Germany. He is a German Artist/Architect. He is currently an Assistant Professor in the School of Creative Media at City University of Hong Kong.
Klein's combined artistic and architectural works construct the emerging practice of Digital Craftsmanship, through which he has established an operational synthesis of digital and physical materials and tools as poetic (Poïesis) and technical (Technê) expressions. Klein's works are based on the use of contemporary CAD/CAM technologies with site and culturally specific narratives, intuitive non-linear design processes, and historical cultural references.
His work has been exhibited internationally at the London Science Museum, the V&A, the Venice Architectural Biennale, the Science Gallery (Melbourne), the container (Tokyo), the Bellevue Arts Museum, the MoCA Taipei, and the Museum of Moscow and Museum of Vancouver. His works are also found in the permanent collection of China's first 3D Print Museum in Shanghai, the Museum of Glass in Tacoma (USA), and the Antwerp Fashion Museum (MoMu).
Dr. Florian Knothe teaches the history of decorative arts in the 17th and 18th century with particular focus on the social and historic importance of royal French manufacture. He has long been interested in the early modern fascination with Chinoiserie and the way royal workshops and smaller private enterprises helped to create and cater to this long-lasting fashion. Dr. Knothe worked at The Metropolitan Museum of Art focusing on European Sculpture and Decorative Arts, and on European and East Asian glass at The Corning Museum of Glass, before his current position as Director of the University Museum and Art Gallery at HKU.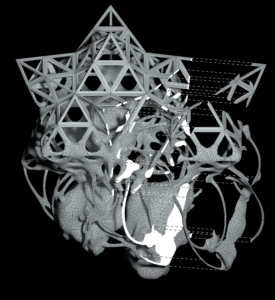 Tobias Klein
"Melted Proportions III"
Resin (white), 3D print (Stereolithography Apparatus SLA)
2019
Edition of 3
50x40x40 cm
© Tobias Klein
Hou Beiren
"Rafts on the Spring River"
Ink and colour on paper
2018
Gift of Hou Beiren
HKU.P.2019.2456
© University Museum and Art Gallery, The University of Hong Kong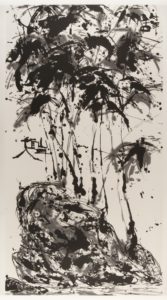 Wesley Tongson
"Bamboo 4"
Ink on paper
2012
Gift of Lilia and Kenneth Tongson
HKU.P.2019.2465
© University Museum and Art Gallery, The University of Hong Kong
Please visit https://www.umag.hku.hk/en/ for the precautionary health and security measures of UMAG.